1 minute read
fun
Gmail Tap: Pure Awesomeness in April's fools day
Omfg, it was hard for Google to improve on their April's fools day prank based on what they have been doing in the past years, but they definitely did it. Behold! Gmail Tap!
I'm amazed, petrified, shocked! How the heck were they able to make this video without laughing their asses off continuously! Check some of the quotes:
Morse code is perfect… it's just a dot… and a dash… What's simpler than that?
Gmail tap multitasking is an improvement over speech, you can say two things with your fingers… that your mouth can only say one of
I think the people that will be best served by Gmail Tap are people with fat fingers…
You can tap it in the morning, you can tap it at night, you can tap it in the bathroom… it's a dot and a dash… to have a conversation with the entire world… it's great…
Omg, and this inspirational music on the background all the time building up momemtum towards the end XDd It's a freaking masterpiece! XD
---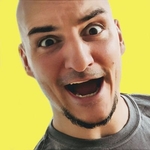 Written by Jaime González García , Dad, Husband, Front-end software engineer, UX designer, amateur pixel artist, tinkerer and master of the arcane arts. You should follow him on Twitter where he shares useful stuff! (and is funny too).Follow @vintharas
---