2 minutes read
google
Happiness is a healthy disregard for the impossible
This morning I had the chance to read Larry Page's 2012 letter to Google Shareholders. It was great! Particularly, this last passage resonated with me in great measure:
Happiness is a healthy disregard for the impossible

When I was a student at the University of Michigan, I went on a summer leadership course. The slogan was "a healthy disregard for the impossible," and it's an idea that has stayed with me ever since. It may sound nuts, but I've found that it's easier to make progress on mega-ambitious goals than on less risky projects. Few people are crazy enough to try, and the best people always want to work on the biggest challenges. We've also found that "failed" ambitious projects often yield other dividends. Believe it or not, the technological innovation behind AdSense, which, as I mentioned earlier, has paid out over $30 billion to partners, was the result of a "failed" more ambitious project to understand the Web. The team failed at understanding the Web, mostly, I think, because they were distracted by their work making advertisements amazingly relevant.

Last year, the Google+ team decided to integrate multi-person video into their efforts. They had a small committed team that was crazy enough to believe this was possible, and Google+ Hangouts was born. You can now video chat with anyone, anywhere, even from the Great Barrier Reef. It was the same with driverless cars, which we started on in 2008. Today we have driven over 200,000 miles, and Steve Mahan, who is legally blind, recently took a drive in one of them. So the one-sentence summary of how to change the world… work on something that is uncomfortably exciting!

Today the opportunities are greater than ever. Things we used to think were magic, we now take for granted: the ability to get a map instantly, to find information quickly and easily, to choose any video from millions on YouTube rather than just a few TV channels. People are buying more devices and using them more because technology is playing an increasingly important role in our lives. I believe that by producing innovative technology products that touch people deeply, we will enable you to do truly amazing things that change the world. It's a very exciting time to be at Google, and I take the responsibility I have to all of you very seriously.
So Be Awesome! Disregard the Impossible!
Isn't that incredibly unpractical yet uber-cool or what? :) We will need to be extra careful, develop an uncanny multitasking ability… or go hitting lamposts. :)
---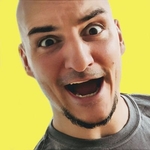 Written by Jaime González García , dad, husband, software engineer, ux designer, amateur pixel artist, tinkerer and master of the arcane arts. You can also find him on Twitter jabbering about random stuff.
---