1 minute read
inspiration
Inspiration Corner: Minecraft The Story Of Mojang
The inspiration corner is the space where I share talks, speeches, videos, articles, posts, whatever that helps me keep my motivation, energy and passion fresh, and what I hope will serve you as well as it does me.
I like to see myself like a beam of positiveness, an inexhaustible source of energy and unbending willpower. Sometimes, however, I get tired… veeery tired. In those moments, I find it is great to recharge with inspiring tales and stories of others. Like this one, the story of minecraft and mojang.
Don't miss it, it's available on the official website or the pirate bay. Believe me, you are going to love it :).
P.S. If you get the deluxe edition you're gonna get a tooon of extra content XD
---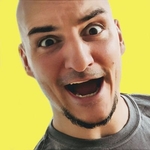 Written by Jaime González García , Dad, Husband, Front-end software engineer, UX designer, amateur pixel artist, tinkerer and master of the arcane arts. You should follow him on Twitter where he shares useful stuff! (and is funny too).Follow @vintharas
---