1 minute read
quiz4couples
quiz4couples muy caliente on the windows developer show
I was listening live to The Windows Developer Show this last Friday, and, to my huge surprise, Ryan suddenly started talking about quiz4couples!. Both Ryan and Travis gave great compliments to the app and the landing page. I could not be more grateful and happy, so thank you guys!!
"He is a Spanish software developer… So his app is caliente… well, muy, muy caliente"
Awesome! These guys are freaking hilarious XDD Don't miss it! Go and listen to The Windows Developer Show episode 96: Get To Know Your Spouse, and any other episode for that matter, because the podcast is just great.
---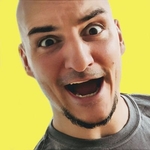 Written by Jaime González García , Dad, Husband, Front-end software engineer, UX designer, amateur pixel artist, tinkerer and master of the arcane arts. You should follow him on Twitter where he shares useful stuff! (and is funny too).Follow @vintharas
---