2 minutes read
events
Visual Studio 2012 Virtual Launch Event, R.A. Salvatore and 800th episode of .NET Rocks
In 5 minutes the Visual Studio 2012 Virtual Launch Event is starting! Isn't that exciting or what?! Wonder if they could make something about that ambient music though… before I jump off the window… Anyway, exciting day today, because not only we have the VS2012 launch event but also Apple is supposed to be announcing the new iPhone in something like 30 minutes :). Looks like the next 3 hours are going to be mighty interesting.
Before everything starts and all hell breaks loose, two recommendations:
First, I listened this morning to the Sword and Laser special episode at DragonCon and it was outstandingly awesome. I had not had the chance before to listen to nor see any R.A. Salvatore interview, but that guy is seriously hilarious. Wonderful to listen to him talking about writing and the writing business.
Second, .NETRocks 800th episode with, of course, Richard Campbell and Carl Franklin but also with… Scott Hanselman and Rob Conery! Boom! Do I even need to say anything else?
Update: The VS2012 launch event was pretty good as expected, particularly the super interesting demos by @orville_m on web dev and @nikolelamb on TFS and ALM. Lots of happy talk about current trends in Software Development and how Visual Studio and TFS allow developers to build modern apps and manage the application development lifecycle (Somasegar is not the most charismatic speaker you can find). A Lot of emphasis on continuous integration, continuous feedback, continuous improvement and continuous delivery. They announced Visual Studio 2012 Express, that is now available for download together with all other versions of Visual Studio 2012 but sadly there was no mention of the Windows Phone 8 SDK or when it will be available.
If you want to know more about the features shipped within Visual Studio 2012 and .NET 4.5, Microsoft has released a ton of demos (you can expand each demo category: .NET 4.5 and languages, Web and Cloud, etc) or you can see what's new by downloading Visual Studio 2012 product guide.
In the meantime, Apple released the iPhone 5 and a bunch of things more.
And now, time to go to bed before Malin exiles me to the solitude, hardness and coldness of the living room couch. :)
Update 2: I have just read the Windows Phone developer newsletter and it looks like the application for Windows Phone 8 SDK Preview is now open until the 17th of September. Quick, quick!
---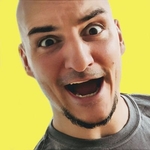 Written by Jaime González García , dad, husband, software engineer, ux designer, amateur pixel artist, tinkerer and master of the arcane arts. You can also find him on Twitter jabbering about random stuff.
---