What is PICO-8?
PICO-8 is a fantasy console to build, play and share tiny, cute games very reminiscent and evocative of the 8 bit era. What makes PICO-8 special is that it is a console and a complete game development environment all in one. PICO-8 comes with a code editor, a pixel editor, a map editor, a sound editor and a music editor, all in a single bundle of joy.
If you have a couple of minutes to spare the following video does an awesome job at explaining what's so awesome about PICO-8:
Getting started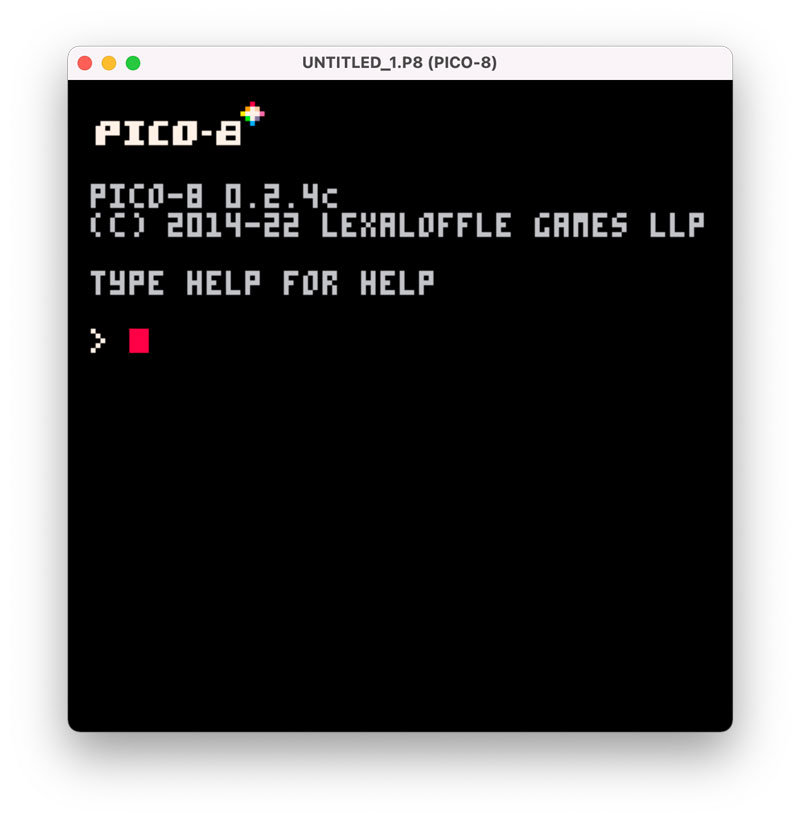 Basic shortcuts
ALT

+

ENTER  

-- Toggle Fullscreen


ENTER 

/

 P  

-- Pause Menu (while running cart)


ALT

+

F4     

-- Fast Quit (Windows)


CTRL

-

Q     

-- Fast Quit (Mac, Linux)


CTRL

-

M     

-- Mute / Unmute Sound
Playing Games
Player 1 default keys: Cursors + ZX / NM / CV
Player 2 default keys: SDFE + tab,Q / shift A
Command mode
REBOOT 

-- reboots the console. Useful if you want to 


       

-- start working on a new game.



CLS    

-- cleans screen



SAVE MYGAME 

-- saves MYGAME.


            

-- This is specially useful when saving a new game.


            

-- After a game has been saved once you can just use SAVE



LOAD MYGAME 

-- loads your game's cartridge


SAVE        

-- save game currently loaded


RUN         

-- runs previously loaded game



INFO  

-- Provides info about the tokens, chars and size of your


      

-- game. This is specially useful if you use external tools


      

-- to write your game.



KEYCONFIG  

-- Open key configuration tool that lets you change 


           

-- the keys used to control each player
Code Editor
Shortcuts
CTRL

-

R     

-- Reload / Run / Restart cartridge


CTRL

-

S     

-- Quick-Save working cartridge
Sound Editor
Shortcuts
Space - Play/stop
- - Go to previous sound
+ - Go to next sound
< - Decrease speed of current sound
> - Increase speed of the current sound
Shift-Space - Play the current group of 8 notes
Shift-Click on an instrument, effect, or volume to change all notes in a sound at once
Tracker mode only shortcuts

Ctrl-Up/Ctrl-Down, PgUp/PgDn - Move up/down 4 notes at a time
Ctrl-Left/Ctrl-Right - Switch columns
Writing a Game for PICO-8
// TODO: describe game loop // it runs at 30 fps
Cheatsheet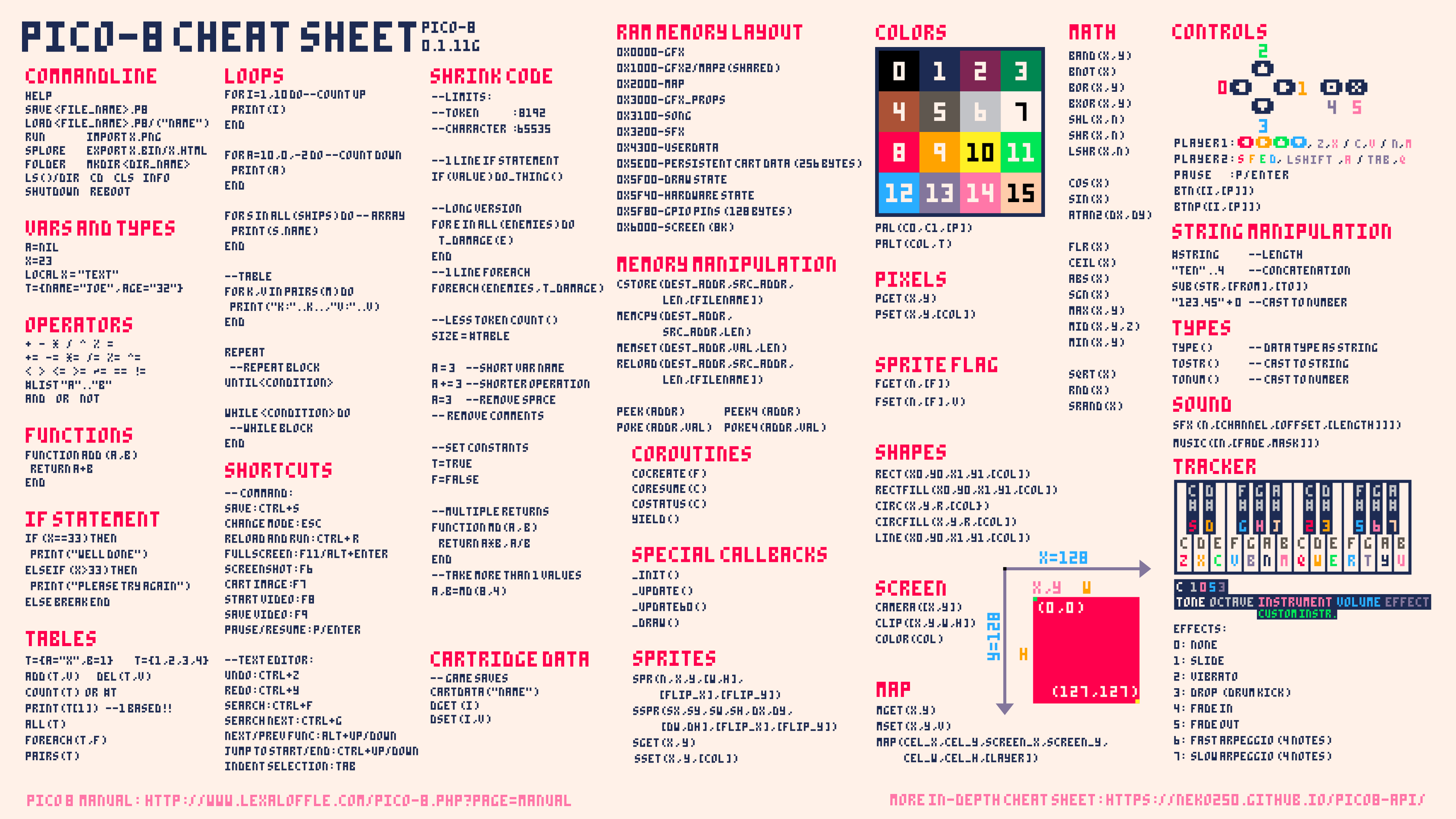 Using external tools with PICO-8
Part of the beauty of PICO-8 is that you don't need any other tool to build a game be it coding, sound, music or art other that PICO-8 itself. But if you still want to use your favorite code editor, art tool, etc you can do it. PICO-8 files mygame.p8 can be opened in any text editor.
Open a p8 file and you'll see that it is subdivided in sections, one for each part of the game
pico-8 cartridge // http://www.pico-8.com
version 32
__lua__
// here goes the game code
__gfx__
// here go the sound and music
If you start changing your game's code under the lua section you'll see that when you load your cartridge within the PICO-8 console your code updates are there. This naive approach can work but you won't have the ability to separate your code in tabs and might struggle with syntax highlighting. A better approach is to take advantage of lua imports to include an external lua file from the game #include main.lua:
pico-8 cartridge // http://www.pico-8.com
version 32
__lua__
// here goes the game code
// Now we can write our game on main.lua and take advantage of your favorite
#  text editor
#include main.lua
// Note that PICO-8 doesn't support nested imports. So we'll need to import
// all of our lua files from here.
#include player.lua
// you can also use folders to group things
#include entities/monster.lua
#include entities/weapon.lua
#include engine/physics.lua
#include engine/combat.lua
#include scene/splash.lua
#include scene/credits.lua
#include scene/game.lua
// it's specially helpful to group things you can reuse
// between games
#include utilities/animation.lua
#include utilities/audio.lua
#include utilities/logging.lua
__gfx__
// here go the sound and music
When you're using an external code editor the built-in token counter doesn't work. Use the INFO command from the command mode to get an accurate count.
You can log information outside of PICO-H by using the printh function:
printh

(

'log this text'

,

 

-- what to log


      

'logfilename'

,

  

-- file to log things to


      

false

)

  

-- this boolean decides whether to clean the file when logging





-- when this function is called it'll log 'log this text' into a filename




-- called logfilename.p8l




-- you can use tail -f logfilename to see things being logged as they happen
This is a great video that illustrates all of the above:
Resources
PICO-8 EDU edition - A free version of PICO-8 on the web
Videos
Podcasts
Books
Fanzines
Articles
More resources
People
---
Written by Jaime González García , Dad, Husband, Front-end software engineer, UX designer, amateur pixel artist, tinkerer and master of the arcane arts. You should follow him on Twitter where he shares useful stuff! (and is funny too).Follow @vintharas
---