2 minutes read
personal
Goodbye 2013, Hello 2014!!
Following the tradition I started last year, I thought it would be a nice idea to write a wrap-up blog post on what I achieved on 2013 and what I am planning to do in 2014. Here it goes:
In 2013 I:
had the best year yet with my beloved Malin. This just keeps getting better and better :)
have been almost 2 years without smoking
started my new job as a software developer at Medius and got to work with much more interesting stuff than in my previous job, mainly building a SPA with knockout and ASP.NET MVC. It feels like I have gone from working with legacy technologies to the latest and greatest (or almost XD)
did lots of learning

Windows 8 and Windows Phone 8
Idiomatic JavaScript and a ton of JavaScript libraries and frameworks: knockout, Durandal, angular, etc
Node.js
Objective-C, iOS
DDD
vim

wrote 27 blog posts. Less articles than during 2012 but of higher depth and quality
read 35 books on the most various topics
learnt a lot on personal finance and even took a course on financial accounting
have improved my Swedish dramatically and use it daily both at work and at home
have worked on a small number of personal side projects
have improved my weight lifting dramatically without using supplements and just through consistency and smart training
If I were to summarize 2013 with one single sentence I would have to say… it was a year of learning, sharpening the saw and broadening my skillset as a software developer, not so much doing, but a lot of learning indeed.
In 2014 I want to remedy that and find a better balance between learning and doing, specifically I want to:
continue investing in my awesome relationship with Malin :)
start my own company and build some products
write my first book
become a more awesome developer
invest more in my drawing/design skills
continue investing in a healthy lifestyle and get a more herculean body XD
Wish me luck! And to you, I hope you have had a great 2013 and that an even better 2014 awaits you!
---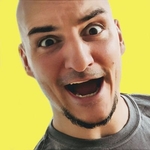 Written by Jaime González García , dad, husband, software engineer, ux designer, amateur pixel artist, tinkerer and master of the arcane arts. You can also find him on Twitter jabbering about random stuff.
---